Situated at Vientiane's gateway, Toong Samsenthai stays within an A-level office complex which is directly connected to the Crowne Plaza. Thus, its residents can gain access to the hotel's ecosystem of 5-star services, as well as engage with the city's most forward-thinking business community.

The key concept of Toong Samsenthai springs from the Mekong River, the sacred symbol and the main sinew that formed the unique history, culture and livelihood of Laotians. Embodying the image of the river, the ceiling is made of inox steel, mirroring daily activities in the working space.

In the belief that there are many unexplored layers of culture hidden within the region, and a common stream of knowledge and values running throughout Vietnam, Laos, and Cambodia will be precious nutrients for any creators, we aim at building Toong Samsenthai into a meaningful place for progressive entrepreneurs and creative folks in Vientiane.
Workspace Packages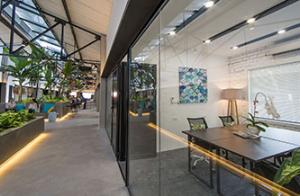 Serviced Office
Flexible price range
Look for an all-inclusive, cost-effective private office for your flourishing business? Our office solution can, in no time, cater to the demand for quick scalability and flexible workspaces of any fast-growing companies, from 1 up to 30 people.
Features
Furnished with desks and chairs
High-speed internet
Reception
Mail and package handling
Cleaning service
IT support
Meeting room
Business lounge
More Detail
See Less
Book Now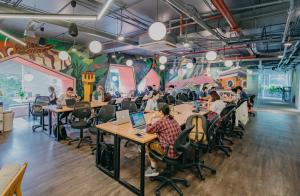 Hot Desk
from đ1,900,000/month
We offer full-serviced hotdesk space located at prime city spots, with affordable rates for freelancers, gig workers, dynamic entrepreneurs, travelers, and short-term project teams. Not to mention that you will no longer have to buy coffee every day!
Book Now
Amenities
With just 2/3 expense compared to traditional offices, your business gain access to a wholesome workplace with an ecosystem of services.
Complimentary Instant Tea & Coffee

Mail Handling Service & Receptionist

High-Speed Internet

Library Acess

Free Locker (conditions applied)

Cleaning services

..and many more premium add-ons

Interest to join our community? How about taking a tour around our location and decide later?
Book a tour to our coworking space