Quartered at the key traffic junction of Cau Giay district, Toong IPH fulfills a day in the life of urban professionals, thanks to its close proximity to an ecosystem of services belonging to a complex of international standard. Spanning on an area of 2,000 m2, Toong IPH is brightened up with a spectacular spectrum of radiant colors deprived from a collection of the self-woven brocade dresses of the H'mong ethnic minority embellished with exquisite, symbolic motifs.

The workplace offers 500 seats for individuals and approximately 90 studios for businesses of all sizes, and is equipped with an enhanced ecosystem of services, assuring both secluded work corners for those who needs some utter privacy and open space that bolsters creative collision.

Workspace Packages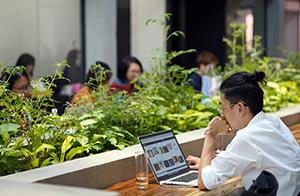 Hot Desk
from đ150,000 /day
Access to open workspace in the common area. Bring your laptop, pick a spot, and get to work.
Features
Furnished with desks and chairs. Filing cabinets are also available
Includes 12 credits to book conference rooms
Mail and package handling
More Detail
See Less
Book Now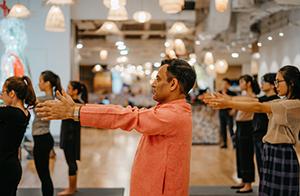 Event Venue
from đ4,000,000 / 4 hour
Our spaces are versatile. They are suitable for a wide range of events, including product launches, community events, in-depth workshops, sharing talkshow and even art exhibitions or music shows.
Features
We are able to cater for up to 70-150 people
Projections & projector, TV screen, micro & speaker, wifi, stationery, setting up assistance
Mineral water, complimentary coffee, and tea, finger food (if required)
More Detail
See Less
Book Now
Amenities
With just 2/3 expense compared to traditional offices, your business gain access to a wholesome workplace with an ecosystem of services.
24/7 working hours (conditions applied)

Complimentary Instant Tea & Coffee

Mail Handling Service & Receptionist

High-Speed Internet

Library Acess

Free Locker (conditions applied)

Cleaning services

..and many more premium add-ons

Interest to join our community? How about taking a tour around our location and decide later?
Book a tour to our coworking space