Built on the foundation of a vintage mansion, which served as the former residence of civil officers working for the Vice President Palace, Toong Vo Thi Sau spans an area of 1200 m2 in total. Structured like a "hamburger", the mansion is revived and engineered into factory-style workspace and serviced offices that join at the multifunctional core.

At the front porch, we preserve the historical white pillars, furnishing it with a row of green elephant grass. Often found only in the countryside, the tall green grasses are seen in a new light when placed into the urban context. The two side houses are converted into unique working offices, with high ceilings and ample light. The back house is reserved for meeting rooms, a sleeping dorm and the open pantry. From the white-pebble backyard, you can catch an extraordinary view of the surrounding architecture - where the feelings of old and new, tranquility and bustle, intersect.

At the multi-functional core, we raise an accented wall, painted with handmade effects inspired by red coral. You are invited to blend into the space of specialty coffee and art; to host gatherings, have lunch breaks; or to simply change your working "posture". The rhythm of daylight through the diagonal roof created a peculiar sense of space, and an intimate connection with the passing of time in the busy city.

We partner with Son Pacamara to bring one of the best specialty coffee brands in Vietnam and Southeast Asia to Toong Vo Thi Sau. The specialty coffee bar is open to both Toong members and public visitors.
Workspace Packages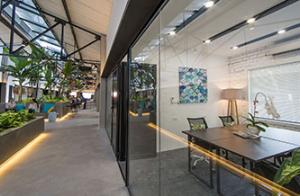 Serviced Office
Flexible price range
Look for an all-inclusive, cost-effective private office for your flourishing business? Our office solution can, in no time, cater to the demand for quick scalability and flexible workspaces of any fast-growing companies, from 1 up to 30 people.
Features
Furnished with desks and chairs
High-speed internet
Reception
Mail and package handling
Cleaning service
IT support
Meeting room
Business lounge
More Detail
See Less
Book Now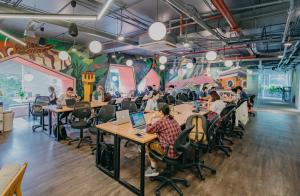 Hot Desk
from đ1,900,000/month
We offer full-serviced hotdesk space located at prime city spots, with affordable rates for freelancers, gig workers, dynamic entrepreneurs, travelers, and short-term project teams. Not to mention that you will no longer have to buy coffee every day!
Book Now
Amenities
With just 2/3 expense compared to traditional offices, your business gain access to a wholesome workplace with an ecosystem of services.
Complimentary Instant Tea & Coffee

Mail Handling Service & Receptionist

High-Speed Internet

Cleaning services

..and many more premium add-ons

Interest to join our community? How about taking a tour around our location and decide later?
Book a tour to our coworking space