Toong Monivong is located on a prominent boulevard that runs centrally across Daun Penh, Phnom Penh's prestigious financial district and home to a great number of government institutions, historic landmarks, cultural attractions, hotels, restaurants, bars and cafés.

With interiors artfully designed by our founder and local architectural studio Bloom, Toong Monivong is a minimalist workspace with elegant accents drawn on Phnom Penh's Chinese-style shophouses once resided along the Canal de Vernéville, now the Vattanac Lifestyle Park. From industrial tables, rattan chairs, earthenware tree pots to glass partitions, cement tiles and wood doors, it embodies the spirit of a contemporary atelier. Also arranged here are artworks by Cambodian artist Sothea Thang. His experimental, handcrafted approach to materials results in delicate sculptures and arresting installations that are reflective of traditional Khmer culture, adding a lyrical touch to the whole space.

Vibrant but also thoughtfully balanced, Toong Monivong is a place where cultural heritage blends with modern-day sensibility, an innovative environment where everyone can take pleasure in work and be inspired to create the future.
Workspace Packages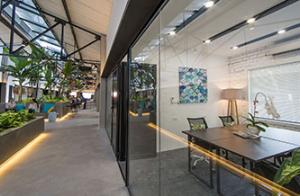 Serviced Office
Flexible price range
Look for an all-inclusive, cost-effective private office for your flourishing business? Our office solution can, in no time, cater to the demand for quick scalability and flexible workspaces of any fast-growing companies, from 1 up to 30 people.
Features
Furnished with desks and chairs
High-speed internet
Reception
Mail and package handling
Cleaning service
IT support
Meeting room
Business lounge
More Detail
See Less
Book Now